As Published in The Burg Magazine-JANUARY 31, 2017 | by Phyllis Zimmerman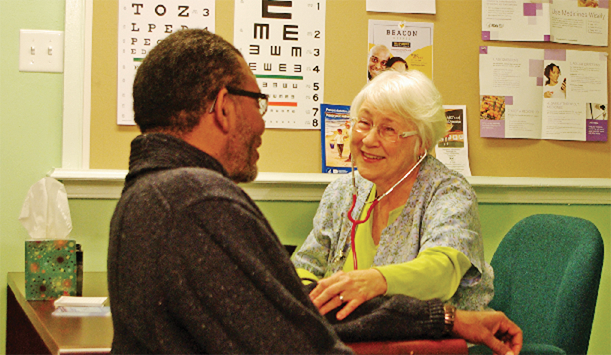 To Maggie of Camp Hill, the Beacon Clinic for Health and Hope in Harrisburg is the sort of place that made her feel "in right place as soon as I opened the door."
The primary healthcare clinic, located in the rear of St. Paul's Episcopal Church, offers free services to adults. To qualify, one only needs to be 18 or older with photo ID, said Ruth Stoll, the clinic's director of development.
Maggie, who asked that her last name not be used, said she first heard about Beacon Clinic on the radio. At the time, she thought she might want to volunteer there after finishing nursing studies at HACC.
Life, however, took a different course.
Maggie has lived in the United States for 13 years, but was forced to return to her native Kenya when her mother fell ill and eventually died. During her travels, she missed two appointments with her doctor in the Harrisburg area. Per office policy, she was dropped as a patient from her doctor's practice because of the broken appointments.
After she returned to the country, her blood pressure skyrocketed, forcing her to seek treatment at a hospital emergency room. When the emergency room physician advised her to follow through with her family doctor, she realized that she had yet another problem. She no longer had a family doctor.
"Then I remembered this clinic where I wanted to volunteer," she said. "I called and had an appointment within an hour. Other places I called said I would have to wait a month for an appointment, and I couldn't wait."
At first, Maggie felt "uncomfortable" going to Beacon Clinic, she said, because, "All my life, I've provided for myself." But then she told herself, "If they provide services for free, then they must be beautiful people."
As it turned out, Maggie was right. The staff and volunteers at Beacon made her feel right at home.
"I don't feel like a patient when I come," she said. "I feel like I'm visiting someone's home. I can't say enough about the staff here. It's wonderful."
Given the recent loss of Maggie's mother, Beacon Clinic also assisted her with grief counseling.
"We're interested in treating the whole person," Stoll said.
Hard Work
Beacon Clinic began as an idea in 2011 from Stoll, nurse Paula Green and nurse anesthetist/acupuncture therapist Rosalie Lambeth.
At the time, Stoll was on the board of directors for Hope Within, a community health center in Elizabethtown that offers free primary health care services in Lancaster and Dauphin counties.
The women set things in motion with a task force that included local pastors and other community members.
"We were trying to decide what to do and where," Stoll said. "We surveyed around the soup kitchen and the Neighborhood Center and the Bethesda Mission. We found that 33 percent of those we surveyed didn't have health insurance."
The task force began looking for a suitable, ADA-accessible site to open a free clinic in Harrisburg, but members soon found that most churches didn't meet ADA regulations or charged rent that was beyond their means. Finally, in 2014, they settled on renting space in St. Paul's Episcopal Church's education extension.
This came with more work. The area was in disrepair, and organizers needed money and supplies to make things happen. The clinic's staff and board of directors spearheaded the renovations.
"It took lots of hard work by everyone here," Stoll said.
The Foundation for Enhancing Communities and the Wells Foundation provided seed money, and the John Crain Kunkel Foundation helped support renovation of the clinic's education room.
After much work and preparation, Beacon Clinic opened in March 2015. By December 2016, it had served 346 patients, 190 of those on a continuing basis. Many of the uninsured come with untreated, long-term health issues.
"It's amazing how many people I see with hypertension," commented Kay Huber, a certified nurse practitioner.
The clinic continues to run mostly on contributions from churches, businesses and individuals, plus grants. PinnacleHealth has provided $20,000 over two years to pay for patient diagnostic that must be done outside of the clinic, such as blood work and X-rays.
"We're not here to keep people dependent," Stoll said. "We're here to help people help themselves."
The clinic recently completed renovations on a community education space with funding from the Kunkel Foundation, Stoll said. Administrators hope to begin diabetes classes and a support group early this year, as well as addiction prevention classes for youth. Cooking and nutrition classes also are in the works.
Stoll said she has "learned a lot" by organizing and working in the clinic.
"It's phenomenal," she said. "I learned the most about how to appreciate the people who come here, what they've gone through, and that they're still living and hoping and that we can provide concrete care with hope."
The Beacon Clinic is located at 248 Seneca St., Harrisburg, at the rear of St. Paul's Episcopal Church, and is open Tuesdays, 3 to 7 p.m., and Thursdays, 10 a.m. to 7 p.m. For information, call 717-775-1111 or visit www.beaconclinicpa.org.
Author: Phyllis Zimmerman